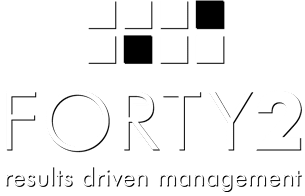 In Multifamily Real Estate

Forty-Two, LLC (Forty2), a multifamily property management, development, and consulting firm, is built on a heightened commitment to strong net operating income growth with a focus on critical metric analyses that significantly increases total asset revenue performance. Forty2 branding drives the highest market price point through excellence in customer service. The focus of Forty2 is to acquire and train the best talent possible to serve multifamily owners and residents in a highly responsive manner with skillful attention to apartment management detail.
We Believe that the Front Line Equals the Bottom Line

Through the implementation of revenue management programs created by CEO and President Jennifer Nevitt, Forty2 will drive property revenue and measure resident satisfaction at each critical juncture.
A core principle and fundamental pillar of our management style is our review of daily processes, consistent talent accountability and implementation of solution-based practices that create efficiency. This is where we begin to make a true difference in the experience of our residents and our owners. We believe in real-time actions and corrective measures.
extraordinary talent forms the foundation for
trust and value perception
Fill Out The Below For More Information